Get the conversation started...
We Can Create Any Type Of Custom-Made Furniture
Our woodworkers and craftsmen have the experience to handle any project. Whether you are looking for a single distinctive piece of custom-created furniture or a uniquely created matching set for an entire roomful of furniture, Open Grain is here to help.
How Much Does Our Custom Furniture Cost?
Each piece of furniture or furniture set we create in our workshop is handcrafted to your exact specifications. Costs depend on the type of wood used, the complexity of the design, and the size.
Work With The Most Talented & Passionate Woodworkers
If you are looking for the best furniture makers near you, you have come to the right place. Our team has decades of combined experience. We love what we do and appreciate the opportunity to build quality wood art for our clients.
Bring Your Own Design Or We Will Design It For You
We handle projects from start to finish. If you already have a design in mind or a piece you would like us to match, send it to us. We will get to work right away to figure out the best way to execute your vision. We can even create an exclusive piece for you from scratch!
How to Get the Custom Furniture of Your Dreams
Step 2: We Build Your Furniture
Once we are confident that you are happy with your design, we get to work. Every piece of custom woodwork we sell is built right in our workshop in Kentucky. Our craftsmen are known for their attention to detail and exceptional skill.
Step 3: Enjoy Your Unique Piece
When you choose the wood artisans at Open Grain Woodwork, you are getting our commitment to quality. Our goal is to make each piece unforgettable while matching your existing design aesthetic.
Get started today
.
What Our Customers Are Saying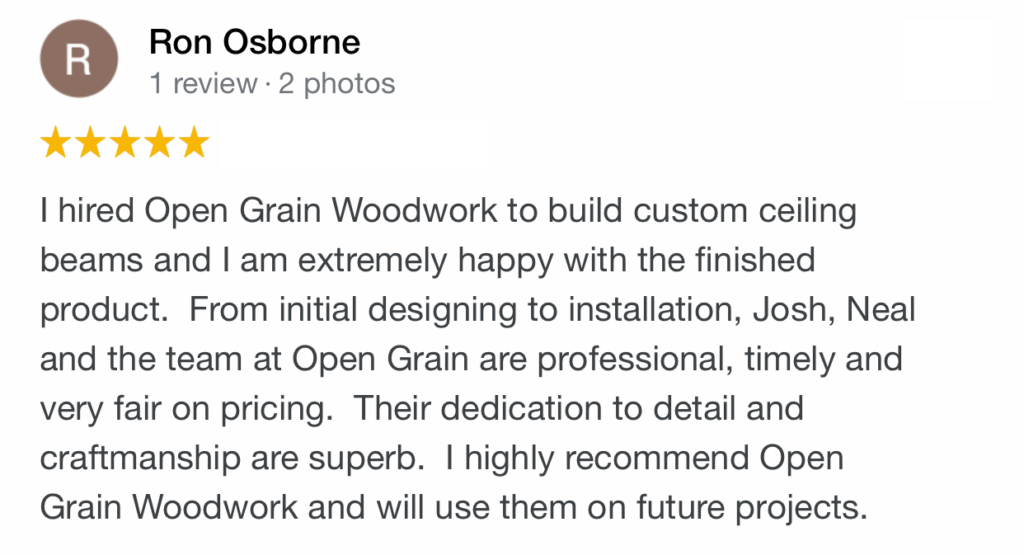 Louisville Custom Wood Furniture
Let us create stunning wooden furniture for your home. Get custom tables, reclaimed wood furniture, and more.
Furniture Your Family Will Cherish for Generations
Custom wood furniture is an investment in your family's history. Our goal is to create stunning one-of-a-kind heirloom-quality pieces that will look beautiful for decades. Whether you need an intricately laser-cut bed frame, a custom desk, or a dining set for the whole family, we put our hearts into each piece we design and build. Give us a call or submit your design materials to get started.
Let's Talk About Your Next Custom Wood Furniture Project
If you are searching for the best custom furniture, you have come to the right place. We are ready to help you get gorgeous custom wood furniture you will love for a lifetime. Send us your materials, or give us a call to get started.