Residential Furniture Restoration
Furniture Restoration Examples
Get the conversation started...
Complete Restoration For Furniture Of All Kinds
Our diverse team and access to industry-leading technology allow us to clean, repair, and restore any piece of heirloom/ antique furniture you bring to us. In the past, we've helped customers restore their well-loved cabinets, tables, dining sets, chairs, clocks, and all sorts of other products that hold a special place in their hearts. 
Of course, there's often a lot more at stake with furniture restoration than just the physical state of the furniture itself. With antique furniture, for example, there can be precious memories and family lineage attached to it. We get that, which is why we take great care to restore in a way that preserves the original integrity of the products we work with.
Perfect Blend Of Modern Expertise And Age-Old Techniques
When it comes to restoration, especially for furniture intended to be showcased in your home, you only want to work with the best. With decades of experience, our team of woodworkers and craftsmen will deliver nothing short of perfection at every step of the restoration process.
To strike a perfect balance of new and old in our restoration work, we also mix together age-old techniques with modern processes. In the end, you're left with beautiful furniture worth showcasing in your home that also maintains the charm of its time.
Before we get to work, we need to understand the ins and outs of your restoration project. The easiest way to fill us in is through our
online product request form
, but you can also reach us via
phone
,
email
, and at our physical location in Louisville.
Step 2: Give Us Your Blessing
With a complete understanding of what you're looking for, we'll connect with you to let you know how we can help. If you're happy with our proposed solution, timeline, and price, all we need is your A‑okay to get started.
Step 3: Show Off Your Restored Beauty
Once the restoration is complete (we'll keep you in the loop the entire time), all that's left is to do is celebrate! In other words, showcase your furniture inside your home, in your store, or wherever else you want.
Furniture Restoration in Louisville, Kentucky
Bring your antique/heirloom furniture back to life with the help of our expert cleaning, repair, and restoration services.
Restore Your Furniture to Its Former Glory
Looking to decorate your home with vintage or antique furniture? Or perhaps restore a family heirloom that's been passed down for generations?
No matter how old or degraded a piece of furniture may be, it can be restored to its former glory with the right expertise.
At Open Grain Woodwork, we provide that expertise. Whether it's your grandmother's china cabinet, a table you bought at a thrift shop, or anything else, you can rely on us to breathe new life into whatever furniture you bring us.
We are Your First Choice for Furniture Refinishing in Louisville
There are three things that a stellar wood product should have behind it: an experienced team, a personal vision, and complete manufacturing transparency. At Open Grain Woodwork, we're proud to say that our products check all three of these boxes. Because of that, we're confident in saying that we are the leading furniture repair service in Louisville and beyond.
What Our Customers Are Saying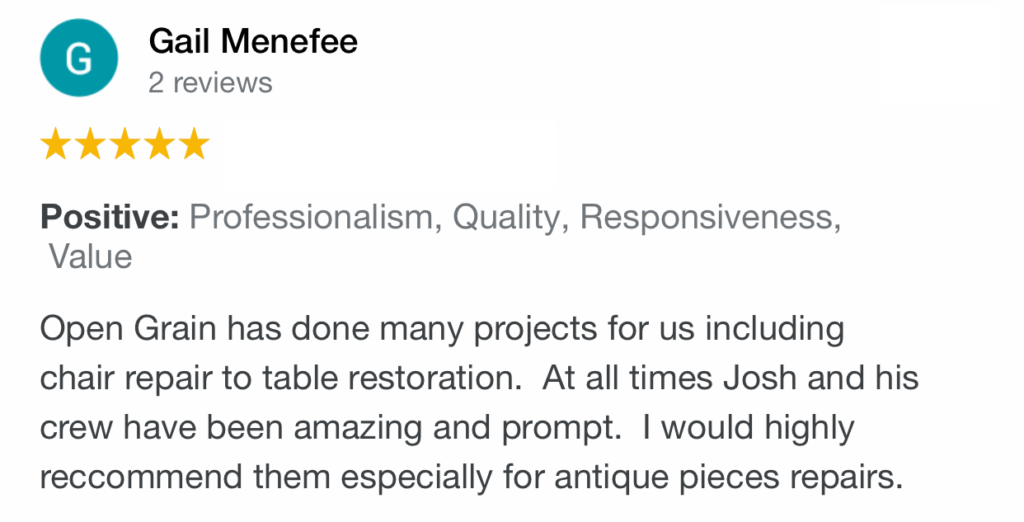 How Much Does It Cost for Furniture Restoration?
To avoid mediocrity, we treat each and every one of our projects as one of a kind. With this in mind, we price every restoration project differently depending on the specific work that needs to be done. That said, you never have to worry about being blindsided by any costs. For complete transparency, we'll make sure you're completely aware of all pricing before we get to work.
Start Your Road to Restoration Today
For used and antique furniture restoration you can trust, there's no better choice than Open Grain Woodwork.
Get in touch today to learn how we can restore your furniture to its former glory.